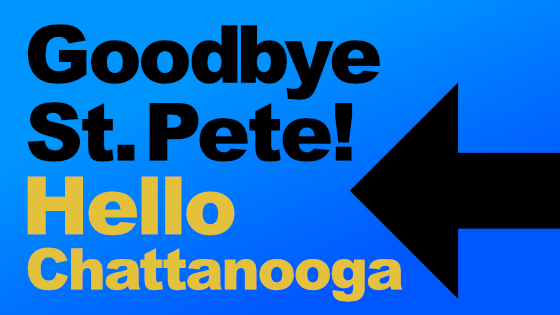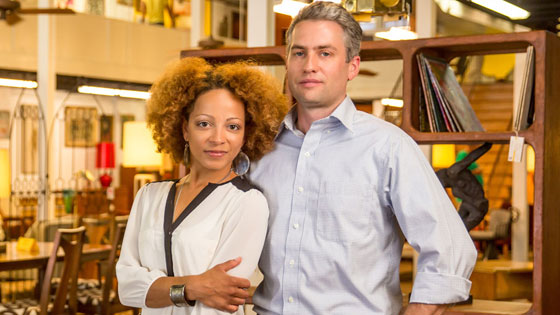 We Moved to Chattanooga, Tennessee!
Land of sunshine, brilliant blue waves, and big dreams. It will be hard to say goodbye to St. Pete, but times are-a-changin' and Furnish Me Vintage and St. Pete Records are rolling out with the tide. The businesses are not closing. Both Furnish Me Vintage and St. Pete Records have relocated to Chattanooga, Tennessee, where we've been operating a satellite location during the pandemic.
It's been 10 blissful years serving the Tampa Bay area. We came to town from New York with nothing but open hearts, quickly filled with the warmth we received from the St. Pete community. We built our business up from our garage to become one of the first businesses to begin the revitalization of downtown's Western frontier. Boy what a ride it has been, and boy has the city grown!
We won't say goodbye, because we aren't going away. As you may know, our business has been e-commerce since day one! You can shop Furnish Me Vintage and St. Pete Records on our websites, Instagram, Facebook and a number of vintage retail platforms. Even better, most items on our website ship free! That's right, you can still shop from your home in St. Pete, Tampa, Sarasota, and Clearwater and have that dresser, dining table, or lounge chair shipped to your home… free of charge.
Outstanding customer service has been the bedrock of our international vintage furniture operation. Our new setup will allow us to provide even more dedicated service to our long distance clients, which now includes our Sunshine City friends.
Since we will not say goodbye, we will leave with a big, loud, THANK YOU! St. Pete has been good to us. Our business was the touchstone for meeting so many wonderful people. We've forged beautiful friendships and will miss the joyous vibe of our downtown hive. If you're ever in Chattanooga, please look us up! We would love to see a familiar face in our new city.
We are firm believers in perpetual growth. As such, we've rolled out a few changes that will propel our company into the new age of retail. Our aim is to pepper your shopping experience with pleasantries. Thank you for your support! Please feel free to reach out via e-mail at any time. We are happy to see if we can be of service to you.
Shop in Person
We moved to Chattanooga! Our St. Petersburg, Florida store has closed for good. We are now located in Chattanooga, Tennessee. Our new central geographic location allows us to better serve our nationwide customers. We are just a few hours drive from Nashville, Knoxville, Atlanta and Huntsville.
St. Pete Records has moved! You can now find our record store, St. Pete Records INSIDE Furnish Me Vintage at 4639 Shallowford Road in Chattanooga.
Shop on line 24/7. Folks can shop our website, 24 hours a day, 7 days a week! We ship nationwide and offer free shipping on most orders!
Free & Discounted Shipping
Free shipping We are offering free shipping on orders totaling $1,500 or more! Additionally, we've expanded free shipping to select items. Look for the "Free shipping icon." The shopping cart will automatically calculate a $0 shipping free for qualifying orders. Sale items and certain oversize items may be excluded from our free shipping program.
Discounted Freight. $199 will get you door to door freight on most items. Our carriers charge double that, or more, for basic freight. That's right, we're covering more than 50% of the shipping fees for you!
Shopping online
Shop on Facebook using the "Shop" button or link on our page
Shop on Instagram by clicking the white dot on the picture
Use AmazonPay or Paypal Pay for expedited check out. Use your Paypal or Amazon login to generate all of your personal details. No need to retype it all! Paypal Checkout gives you the option of paying via Paypal funds, credit card or your bank account.